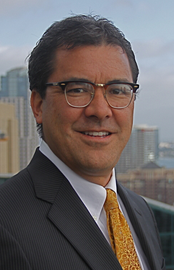 Douglas S. Gilliland, Esq.: Mr. Gilliland is a trial lawyer with over 30 years of experience in criminal defense, civil rights, appeals, and personal injury law. Mr. Gilliland's criminal defense practice includes representing high profile criminal cases. He negotiated a plea agreement in the recent fentanyl murder case in La Jolla, California (see Blog "Murder in La Jolla – Fentanyl Laced OxyContin"); obtained three years house arrest for a retired former City Attorney charged with murdering his 53-year-old-son; negotiated immunity for the human resources director of the government contractor that was convicted of bribing then U.S. Congressman Randy "Duke" Cunningham in the largest congressional bribery case in United States history; obtained a not guilty verdict on 21 counts for two former Emmy Award winning producers in a massive Ponzi scheme after a two month trial before the Hon. Napoleon Jones in the U.S. District Court for the Southern District of California; negotiated a time-served deal in the first degree murder case against the grand-nephew of former Philippine President Corazon Aquino after his arrest which resulted from an episode on America's Most Wanted; obtained a misdemeanor deal in a two-count felony assault with a deadly weapon case against the former National League Most Valuable Player and World Series Champion Kevin Mitchell; helped persuade the district attorney not to file charges against The Discovery Channel reality television personality Tommy "Gipsy" Quinn from The Devil's Ride; negotiated immunity for an online gambling funds processor in the 20 million dollar federal case against on-line poker in Manhattan, New York; hung the jury 6-6 in a sexual battery case against a Nazarene minister in Riverside County; and tried the Iraqi hate-crime/murder case in El Cajon, California of Kassim Alhimidi.
Mr. Gilliland has obtained jury verdicts or settlements in excess of one million dollars in each of the four largest counties in the State of California (Los Angeles, Orange, San Diego and San Francisco). He handled the Davis v. Davis matter (12 million dollar settlement), the representation of multiple clients against a local water district for providing contaminated water (1.4 million dollars), obtained the then-largest civil rights settlement against the FBI in the Southern District of California, and completed the representation of multiple clients in the 4.85 billion dollar VIOXX class action lawsuit in New Orleans. Mr. Gilliland has also provided civil defenses in the Birdrock Bandits murder/assault case and the notorious BUMFIGHTS video case.
Mr. Gilliland received his Bachelor of Arts degree in English from the University of Washington in Seattle, Washington in 1985. He attended law school at the University of Oregon School of Law in Eugene, Oregon. At Oregon, he was a staff, then associate editor for the Oregon Law Review. He also assisted Torts Professor Caroline Forell teaching personal injury law to first-year law students. Mr. Gilliland received his Juris Doctorate (J.D.) from the University of Oregon in 1990. Mr. Gilliland then received a Master of Laws degree (LL.M.) in 1991 from the University of San Diego School of Law.
Mr. Gilliland was admitted to practice law before all courts of the state of California in 1991. Mr. Gilliland was admitted to practice law in the United States District Court for the Southern District of California in December 1991, the Eastern District of California in June 2001, the United States Court of Appeals for the Ninth Circuit in September 2001 and the United States Supreme Court in May 2002. Mr. Gilliland was granted permission to practice law in the Eastern District of Louisiana for purposes of the Vioxx mass tort litigation, and the Southern District of New York in Manhattan to defend online gaming.
Mr. Gilliland was an invited speaker on Civil Rights at the USC Gould School of Law, and has been a guest speaker for several years at the California Western School of Law and the Thomas Jefferson School of Law in San Diego.
Mr. Gilliland has had several court of appeal decisions published by the United States Court of Appeals for the Ninth Circuit and California Court of Appeal, Second District, Division Three and Fourth District, Division One. These decisions are reported at Williamson v. National City, No. 20-55966 (9th Cir. January 24, 2022); Lee v. FBI, 363 F.3d 931 (9th Cir. 2004) cert. denied, 546 U.S. 1214 (2005); Butler v. San Diego District Attorneys, 370 F.3d 956 (9th Cir. 2004); Duffens v. Valenti International (2008) 161 Cal.App.4th 434; Leonte v. ACS State and Local Solutions, Inc. (2004) 123 Cal.App.4th 521.
Personal: Mr. Gilliland is married to legal malpractice attorney Aisling Gilliland. They have three children: Nicole is an attorney with Robbins Geller Rudman & Dowd's San Diego office, Hannah is in Sales Operations at Blooma, Inc. in Encinitas, and Ronan is in Business Development at C3 Bank in Encinitas. Mr. Gilliland enjoys time with his family, cooking, and running. He completed 10 consecutive Boston Marathons (2005-2014), the San Diego Marathon, and the Los Angeles Marathon. But he is hardly as fast as Hannah who is the 2022 Carlsbad Marathon Champion.